Team USA Withdraws from the 2022 Canada Cup

Nathan Bragg  |  May 30, 2022
Team USA has unfortunately had to withdraw from the 2022 Canada Cup International Wheelchair Rugby Tournament due to positive COVID-19 tests prior to leaving the US. As a result of their withdrawal, the Canada Cup organizing committee has made several changes to our tournament schedule.

The tournament will continue in it's round-robin format with each of the remaining six teams playing each other in the preliminary stage of the competition from Thursday, June 2 to Saturday, June 4. Following the conclusion of the preliminary round, the top four teams will move onto Sunday's finals with the 3rd and 4th ranked teams playing for bronze and the top two ranked teams competing for the 8th Canada Cup in the title match!

In the current sporting and COVID-19 climates, it's always disappointing for athletes and teams to have to miss out on an important competition and we'd like to send our best wishes to Team USA.


We're still looking forward to welcoming the remaining teams and fans to the Richmond Olympic Oval for four exciting days of hard-hitting, fast-paced and world-class wheelchair rugby. Fans can purchase tickets online here or at the door and all matches will be webcast live so that viewers can watch all around the world.

Please note that while the Canada Cup is open to spectators, in order to mitigate the possible spread of COVID-19 within the tournament all officials, coaches, athletes, spectators and volunteers or anyone not on the field of play will be required to wear a well-fitting 3-layer mask at all times. Cloth masks without a filter layer or other face coverings such as bandanas or neck warmers pulled over the face are not acceptable.

Health and safety for all attendees is always a priority at the Canada Cup and we appreciate the public's understanding in these times.

For more info on the Canada Cup's COVID-19 policies and health and safety plans, please contact Michelle McDonell at michelle@bcwheelchairsports.com
Schedule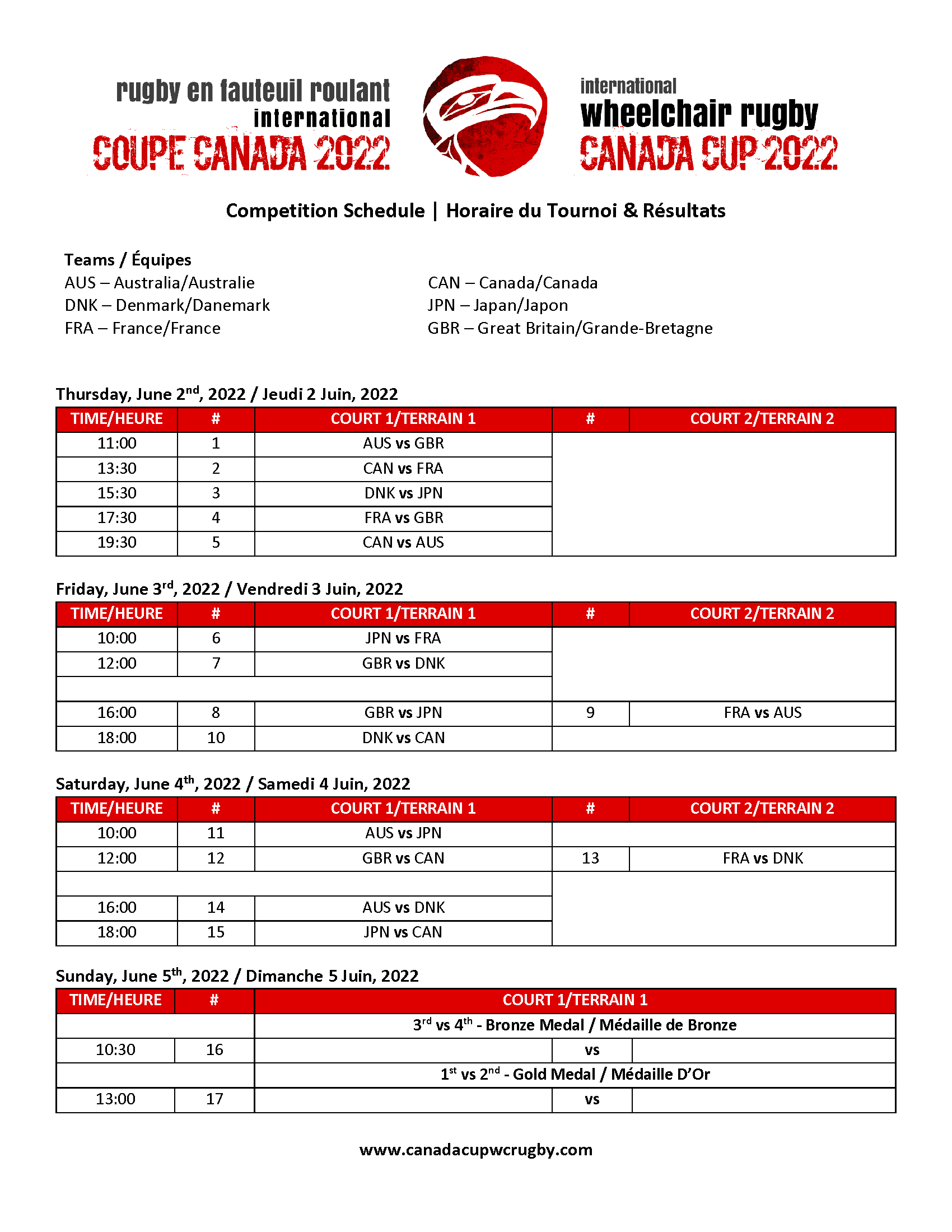 Contact

Media
Nathan Bragg
communications@bcwheelchairsports.com
604-715-7298